Motorcycle Accident Lawyer
Motorcycle Accident Lawsuit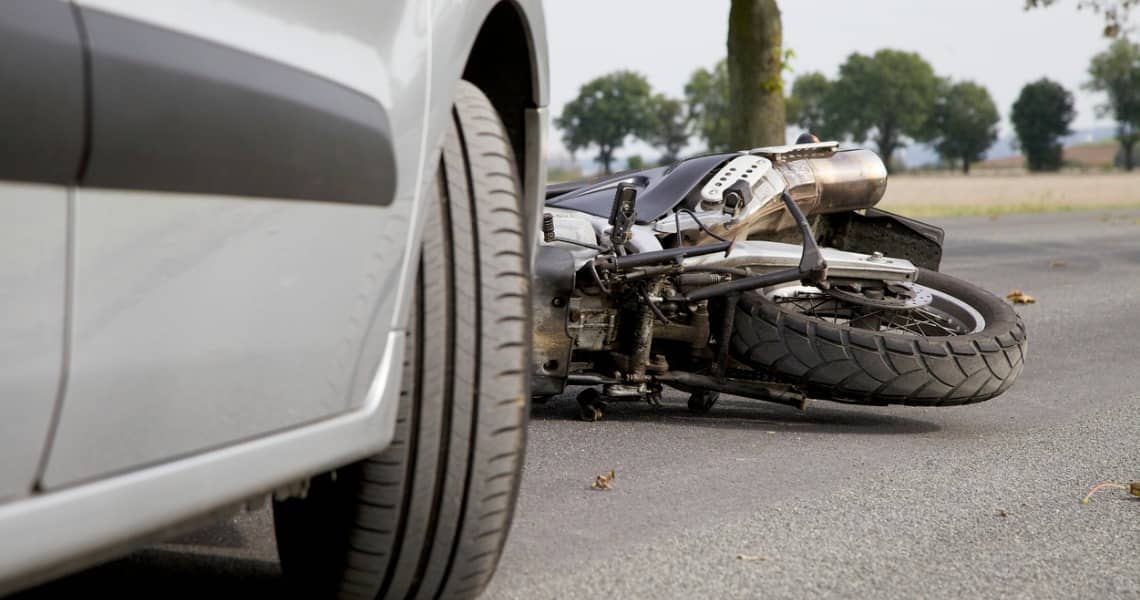 Motorcyclists are at a higher risk of sustaining severe injuries in an automobile accident than the driver of either a car or truck who is protected by airbags, a steel frame, and additional safety features. Even if a motorcyclist is an experienced rider and is driving safely while obeying all traffic laws, he or she can still be seriously hurt in an accident with a vehicle operated by a negligent driver. Unfortunately, insurance companies often stereotype motorcyclists as being reckless and irresponsible.
If you or a loved one has been severely injured in a motorcycle accident, Dash Injury Law Firm may be able to help you. We understand the laws of the road for all vehicles including motorcycles and have the resources to pursue a motorcycle accident lawsuit to get you the compensation you deserve. Complete an online contact form to learn how our legal team can help you move past your motorcycle accident and so you can continue your daily life.
Causes of Motorcycle Accidents
A common cause of motorcycle accidents is a negligent driver of a car or truck. Motorcyclists must always stay alert when riding and be fully aware of their surroundings which include all other motorists on the road. Knowing what causes motorcycle accidents can help riders take steps to prevent them from ever happening, however it is impossible to control how safe other drivers are. Here is a list of a few behaviors from negligent drivers that commonly cause accidents:
Drunk driving
Distracted driving
Swerving in front of a cyclist
Cutting off motorcyclists at intersections
Poor road conditions
Not checking blind spots
Leaving car doors open
Illegal and dangerous lane changes
Hard braking
Failing to follow posted speed limits
Failing to yield when appropriate and not recognizing motorcycles on the road are two of the most common causes of accidents. These types of accidents are caused by automobile drivers who do not drive safely when making left turns at intersections. Left-hand turn accidents are caused by:
Failing to see a motorcyclist
Following another driver who does not see the motorcyclist
Misjudging the travel speed or distance of a motorcycle
Panicking and making a driving error (e.g. Stopping in the motorcyclist's path)
Motorcycle Accident Injuries
Motorcyclists are not as protected as drivers of cars or trucks and they are more prone to bodily injuries in a crash. Most motorcycle accident injuries can be placed in general categories which include:
Amputation
Broken bones
Road rash or burns
Spinal cord injuries
Traumatic brain injuries
Death
What Can Be Recovered in a Motorcycle Accident Lawsuit?
When negotiating or litigating against an insurance company or defendant's party, Dash Injury Law Firm will be able to help you recover the financial compensation you deserve. This includes the following:
Medical Expenses - You are able to receive damages for any medical expenses they have incurred as a result of the accident such as hospital visits, surgery, and physical therapy.
Lost Wages - If your injuries prevent you from going to work and earning an income to support yourself or your family, you can file for lost income or lost earning capacity. Your compensation will include any wages you could have earned if the negligent driver did not cause an accident.
Pain and Suffering - To determine pain and suffering, factors such as the level of pain you experienced, how long you experienced pain, and the overall nature of your pain will be considered.
Mental/Emotional Harm - You can also receive compensation for the emotional pain you and your family have been put through because of the accident. This includes any feelings of grief, worry, embarrassment, or fright.
Loss of Consortium - If the motorcyclist in the accident was wrongfully killed, the surviving spouse can be given compensation for the loss of companionship, services, and care. Surviving parents can also be given compensation for the loss of their child. Similarly, the surviving children of the deceased can be compensated for the loss of support, love, and care from the parent.
Motorcycle Accident Claims
When filing a motorcycle accident lawsuit, you will want to determine what type of claim you are pursuing. Below are different types of motorcycle accident claims:
Negligence
Motorcycle accidents are categorized as personal injury cases and include the element of negligence. This means that it is necessary for a lawyer to establish that the other driver caused the accident by failing to act as a reasonable driver would and failing to uphold his or her duty of care. The attorney conducts an investigation to uncover more facts, such as whether the defendant was driving while intoxicated, speeding, or recklessly driving.
Product Liability
In some cases, the cause of an accident can be the result of a mechanical defect in the actual motorcycle. You may then have the eligibility to file a lawsuit against the manufacturer of the defective vehicle or defective part. This product liability lawsuit will allow you to receive compensation for the injuries you sustained because your bike was defective in some way.
Dash Injury Law will thoroughly conduct an investigation into the motorcycle in question to find any defects that existed before the accident took place. We will work to find out if:
The motorcycle was unreasonably dangerous
There were defects in the motorcycle's brakes, accelerators, tires, fuel system, or other parts
The motorcycle was being operated as intended
There were no changes to the motorcycle after its purchase
Wrongful Death
If one of your family members is killed in a motorcycle accident caused by a negligent driver, the surviving family members will be able to file a wrongful death lawsuit. Our law firm can help you and your family hold the responsible parties accountable and find justice.
Insurance Companies and Motorcycle Accidents
When speaking with insurance companies, it is highly recommended that you have an experienced attorney by your side to help you negotiate a fair settlement for damages from the accident. Our legal team will pursue a lawsuit in court against the negligent parties, if the insurance company does not offer you fair compensation.
For most accidents, the insurance company of the at-fault driver will send out an investigator to review the crash and any damages. These investigators want to pay as little money as possible and do not have your best interests in mind. They are trained insurance employees who want to extract sensitive information from you when you are most vulnerable and use this information against you to lower your settlement offer or if you decide to pursue legal action.
In this situation, Dash Injury Law Firm can help to defer those questions – in many cases, we will request that all questions be diverted directly to our firm. In effect, what this does is provide our customers with a level of protection from these investigators, which allows you to focus on their speedy recovery.
Contact Our Motorcycle Accident Lawyers
The experienced attorneys at Dash Injury Law Firm will help guide you through the aftermath of a motorcycle accident that was caused by someone else's negligence. There are a number of things that could happen after an accident, so it is crucial to find a lawyer who will provide you with expert legal advice and support you during this difficult situation.
Dash Injury Law Firm provides airplane crash lawsuit services in the surrounding areas of the following locations:
We are committed to serving our clients and fighting for the compensation and justice they deserve. Call our legal team today at 888-(DASH-LAW) or complete an online contact form.
The information contained in these pages should not be taken as a substitute for legal advice and it is in fact not legal advice, especially as to cases which are highly fact-specific.